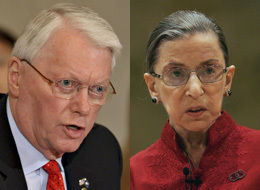 Justice Ruth Bader Ginsburg shot back at Senator Jim Bunning (R-Ky.), who predicted a year ago that she would "die soon."
"I am pleased to report that, contrary to Sen. Bunning's prediction, I am alive and in good health," she said in a recent speech, according to ABC News.
Last year, Ginsburg was diagnosed with pancreatic cancer. Bunning, speaking at a Republican dinner in Kentucky, speculated that it was "bad cancer," and that "usually, nine months is the longest that anybody would live after (being diagnosed) with pancreatic cancer."
Bunning later apologized for those remarks, saying that he hoped "she recovers quickly."
"I apologize if my comments offended Justice Ginsburg," Bunning said. "That certainly was not my intent."
---
Guess which one is a class act and which one isn't?